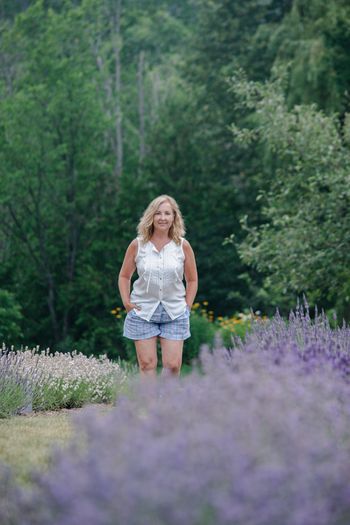 @mikaylatowns.photography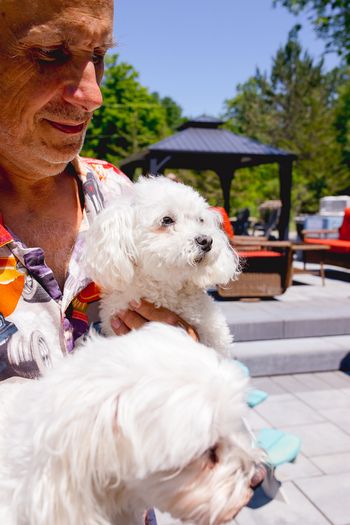 A Word From The Owners
My spouse (John) and I (Constance/Connie) have been blessed with a beautiful property that has provided us with peace, tranquility, and imagination that we would like to share with others. We recently moved from Mississauga and we both had stressful jobs. I am originally from the area and grew up nearby. I was a former General Manager in the banking industry and My spouse is an Electrical Engineer and business owner today along with helping me develop the new lavender farm business. John has been instrumental to the construction and development of the new lavender farm. Both John and I met while attending Queen's University and we have come full circle returning to our final home. Our Lavender Queen mascots are named Abigail and Cassey and they love visitors to the farm!
I registered our property as a farm in December 2020 and completed an environmental farm plan. We have been working with the Quinte Conservation area as we have completed our landscaping project.
The Lavender Queen name came from a passion for crafting lavender crowns (fresh and dried). Crafting lavender crowns will be held on the farm in the future, once our lavender becomes more mature in a few years and we continue to grow. We currently sell fresh and dried bouquets onsite and in our online store. We also currently make our homemade fresh lavender small batch products by request so you can be assured they are always Farm Fresh when you order online for pick-up or delivery. We distill our lavender oil and hydrosol (floral water) to make some of our own bath, body and cleaning products. We also offer dried lavender buds for culinary use, crafting and wedding toss. We package our product mostly in glass recyclable mason jars to be environmentally friendly.
My Mother and Grandmother loved everything lavender-smelling and purple, and I have been surrounded by the colour (paint on walls, clothes, flowers) and the smell my whole life — and love it to this day. I invite you to follow along on our journey and plan your visit today.
Plan Your Visit